Turandot, Opera by G. Puccini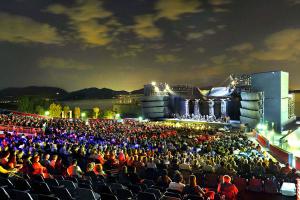 Giacomo Puccini worked on Turandot, his final masterpiece, until his sudden death on 29 November 1924 in Brussels, where he succumbed to complications after a surgery to treat his throat cancer. In stark counterpoint to his declining health, the maestro seemingly put all of life's joy, love, and inspiration into this last grand work whose impressionist musical genius still moves audiences around the world.
Turandot, Puccini's symbolic parting gift, was completed by Franco Alfano based on the composer's sketches. The premiere took place on 25 April 1926 at Il Teatro alla Scala in Milan. Arturo Toscanini conducted and paid a poignant tribute to the late Puccini by stopping the performance at the point in Act III where the composer had left off. Subsequent productions habitually include Alfano's ending, and those who attend Turandot's performances during the Puccini Festival in Torre del Lago will be able to enjoy the opera in its completeness.
Turandot tells the story of a Chinese princess of the same name who promises her hand in marriage to the nobleman who answers her three riddles correctly. Failure is punished by death. Prince Calaf, initially appalled by the princess' cruelty, falls in love the moment he lays eyes upon her and enters the challenge. To Turandot's dismay, Calaf answers the riddles and, to win her heart, proposes one of his own: to call the marriage off and have him executed, she must find out his name by dawn. As morning draws near, he confesses his feelings and reveals his name to her, placing his life in her hands. Charmed, Turandot proclaims to her people that his name is Love.
In Puccini's operatic pantheon, Turandot is in a league of its own. The maestro contrasts the dark story with some of his most glorious and uplifting music which will soar once again in Gran Teatro Giacomo Puccini this summer. Stirring choruses such as 'Muoia! Noi vogliamo il carnefice' and memorable arias abound, like Turandot's powerful 'In questa reggia,' slave girl Liu's imploring 'Signore, ascolta,' and Calaf's magnificent 'Nessun dorma,' perhaps Puccini's most universally recognisable melody and a beautiful, emotional high point in his musical legacy.