Madama Butterfly, Opera by G. Puccini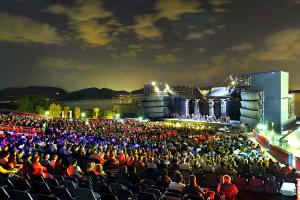 Always attracted to tragic heroines, Giacomo Puccini fell in love with the play Madame Butterfly: A Tragedy of Japan by David Belasco when he saw it in London in 1900 - even though he did not speak English! Drawn by the intense emotion of the love story between a Japanese woman and an American navy officer, he assembled his favourite team of librettists - Luigi Illica and Giuseppe Giacosa - and got to work. True to his principle of operatic realism, Puccini included Japanese and American musical motifs into his score, and Illica even travelled to Japan to collect impressions and design ideas for the decor.
The premiere at Milan's La Scala on 17 February 1904, however, was a stunning failure, which Puccini suspected was at least partially orchestrated by his rivals. Not ashamed to go back to the drawing board, the composer reworked Madama Butterfly and its second premiere in Brescia on 28 May 1904 achieved deserved success. The maestro continued making minor adjustments in the coming years, and Puccini Festival goers will have the pleasure of witnessing the ultimate version of Madama Butterfly at Torre del Lago this summer.
Madama Butterfly tells the tale of Cio-Cio-San, a Japanese woman, and her hapless marriage to Lieutenant Pinkerton, a U.S. naval officer. Although she is naively and truly in love with him, he treats her merely as another one of his exotic conquests; she is his pretty butterfly whom he wishes to capture, even if this means breaking her wings. Sure enough, Pinkerton grows bored of Cio-Cio-San and leaves her heartbroken and with child. Three years go by, in which the young woman awaits the return of the American, whom she still loves, but she is not prepared for what happens then: he comes back with an American wife and wants to take his son away. Shattered, Cio-Cio-San realises her love is gone forever and takes her own life.
The score of Madama Butterfly is among Puccini's most atmospheric, thanks to his extensive study of Japanese folk music and his incorporation of popular American melodies to characterise Pinkerton and his compatriots. However, the real show-stopper is Cio-Cio-San's wistful 'Un bel di vedremo,' a truly timeless, heart-wrenching aria which demonstrates Puccini's supreme mastery of melody and emotion.