Le Villi, Opera by G. Puccini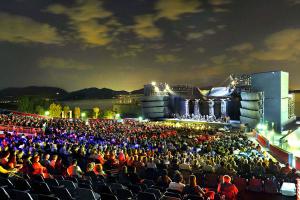 When the music publisher Edoardo Sonzogno organised a competition for one-act operas in 1883, the then-unknown young composer Giacomo Puccini submitted a hastily written manuscript for an opera-ballet that failed to make a lasting impression on the jury. Little did anyone involved know that this work would turn out to be Puccini's proper debut, Le Villi, and that its later popular success would kickstart the Maestro celebrated career. The Puccini Festival at Gran Teatro all'Aperto Giacomo Puccini in Torre del Lago returns to the Italian composer's roots!
The young Puccini composed Le Villi in a matter of months, at the active encouragement of his mentor Amilcare Ponchielli. He used a libretto by Ferdinando Fontana, itself derived from an old Germanic legend, which also served as the basis for Adolphe Adam's ballet Giselle. The judges in Sonzogno's competition dismissed Le Villi, but, with the lobbying efforts of Arrigo Boito, the opera-ballet was eventually premiered on 31 May 1884 at Teatro Dal Verme in Milan where it enjoyed standing ovations and multiple encores.
At the advice of publisher Giulio Ricordi, Puccini extended Le Villi to two acts in order to allow more breathing room for the tragic story to unfold. The plot follows two lovers, Roberto and Anna. After he promises her his eternal love, the young man leaves on a long journey, during which he falls under a siren's spell. Back home, Anna waits and waits, slowly losing hope until one day she dies of a broken heart. To avenge the young woman's tragic death, the Fairies ('le villi') put a deadly curse on Roberto: he must dance until he dies from exhaustion.
Despite the haste, Puccini injected his keen sense for melody and lyricism in Le Villi's score. Particularly Roberto's tenor arias, as well as the solo number by Anna's father Guglielmo, a baritone, demonstrate the composer's inborn gift for musical expression. Whether the fairy-tale basis of the plot or the inclusion of ballet sequences impeded the lasting success of Le Villi or not is a matter of discussion, but one thing is clear: it is classic Giacomo Puccini and a grand debut that contains many of the elements that make the Maestro's best-known works famous.
The Puccini Festival in Torre del Lago lifts the curtain on the confident first steps of a musical giant.