La rondine, Opera by Giacomo Puccini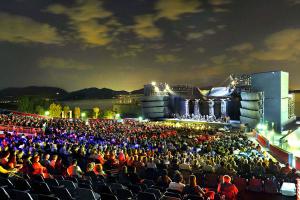 La rondine is Giacomo Puccini's version of a Viennese operetta. Even though in 1913 he was commissioned by the Carltheater in Vienna to work within the bounds of this narrowly defined genre, the Maestro insisted on having enough creative freedom to make the piece his own. Puccini set about composing a three-act comic opera to Giuseppe Adami's Italian libretto, but the onset of World War I made the plans of a lavish Viennese premiere impossible, not the least because Austria-Hungary and Italy found themselves on opposing sides. Thus, La rondine had its debut performance at the Grand Théâtre de Monte Carlo on 27 March 1917 instead. After an initial positive reception, the opera's popularity faded compared to Puccini's other major hits, but its value and importance in the composer's catalogue remain. Gran Teatro all'Aperto Giacomo Puccini in Torre del Lago gives this piece a well-deserved revival.
La rondine (translated in English as 'The Swallow') tells the story of the courtesan Magda and her quest for true love. Along with her protector Rambaldo, she has become one of the signature characters in Parisian highlife. A chance meeting with the young Ruggero at a social evening in her salon turns the courtesan's life around. As the guests head to a bar, Magda follows them in disguise and spends the whole evening with Ruggero, talking, laughing, dancing, and slowly but surely falling in love with him. On the wings of her newly found feelings, Magda announces to Rambaldo she is leaving him to start a new life with her true love, but how long can she maintain the charade and how will Ruggero take the harsh reality of her past?
Although it was initially conceptualised as an operetta, La rondine has all the markings of a classic Puccini opera, with a magnetic female lead who carries an inner sadness and a secret that threaten to consume her and her budding happiness. Armed with an emotional score and a plot that keeps the audience in its grip, Puccini's 'Swallow' will spread its wings over Torre del Lago this season.