La Fanciulla del West, Opera by G. Puccini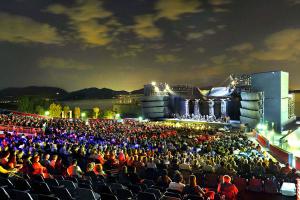 La fanciulla del West (or The Girl of the Golden West as it is known in English) is usually taken to represent the end of Giacomo Puccini's 'mature period', an end of a creative arc in the development of the Maestro's compositional style. The opera stands out with its monolithic musical profile and action-packed, dramatic love story. The Puccini Festival at Gran Teatro all'Aperto Giacomo Puccini in Torre del Lago revives a true classic!
After the success of the operatic adaptation of David Belasco's play Madame Butterfly, Puccini found inspiration in another theatre production by the American author, a gold-rush, bandit-ridden action piece called The Girl of the Golden West. The Maestro enlisted the services of librettists Guelfo Civinini and Carlo Zangarini, and the Italian text for La fanciulla del West quickly took shape.
The plot, as in many of Puccini's classic operas, is centred upon a strong, tragic female lead. Here, this is Minnie, the owner of a saloon in a small mining town below the Cloudy Mountains in California. Amid the Gold Rush, Minnie falls in love with the wanted bandit Ramerrez, who hides under the false identity of Dick Johnson, a traveller from Sacramento.
Minnie quickly falls under Dick Johnson's spell, to the dismay of the local sheriff Jack Rance. The love triangle is formed! Through risk and sacrifice, Minnie protects her newfound love from the law and an angry posse of miners. Unlike many other of Puccini's operas, La fanciulla del West ends triumphantly: Minnie manages to save Ramerrez from execution, and the two lovers ride off into the sunset.
For his adventure in the Wild West, Puccini garnished his masterful musical lyricism with bombast and dynamics that parallel the rapid on-stage action of bandits running from the law and cowboy shootouts. La fanciulla del West demonstrates the Maestro's talents for characterisation and his clever use of leitmotif, such as the sentimental melody of the aria 'Che faranno i vechhi miei là lontano' that recurs throughout the score and helps bind the plot together.
The premiere of La fanciulla del West at New York's Metropolitan Opera on 10 December 1910 was exceptionally well-received, but the opera failed to reach the lasting popularity of Puccini's previous hits. The Puccini Festival's revival is a rare chance to see this gem!