La Bohème, Opera by G. Puccini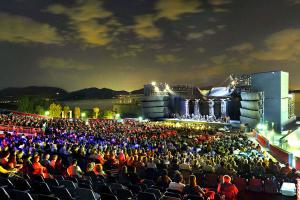 La Bohème is widely regarded as the first of Giacomo Puccini's 'mature' operas. Indeed, the attentive listener will pick out all the classic elements of the composer's creative genius: rich, emotion-laden solo numbers with memorable melodies, ambient and atmospheric orchestration that closely follows the plot, witty and moving lyrics, and an engaging love story whose ups and downs keep audiences on the edge of their seats. Against this background, it is no wonder La Bohème has been a smashing success ever since its premiere on 1 February 1896 at Teatro Regio in Turin. The opera's bittersweet romance will grace the stage of Gran Teatro Giacomo Puccini in Torre del Lago for two nights during the Puccini Festival.
La Bohème marks the first collaboration of the classic creative trio Giacomo Puccini and librettists Luigi Illica and Giuseppe Giacosa, without further contributors. They drew inspiration from Henri Murger's Scènes de la vie de bohème, a collection of vignettes on struggling bohemians' lives in a Parisian suburb. Initially lukewarm about the project, Puccini invested all his energies into it when he learned that rival composer Ruggero Leoncavallo was working on his own adaptation. The result of the maestro's creative push is definitely one for the books - La Bohème remains one of the most performed operas and a classic study in musical characterisation and operatic orchestration.
The plot of La Bohème centres around the love story between the poet Rodolfo and the seamstress Mimí. They fall in love at first sight, though their happiness is clouded by the young woman's tuberculosis and their limited means. As her illness advances, the pair split up because Rodolfo lacks the means to care for Mimí properly. Several months later, the dying seamstress returns to the garret and the two lovers share an emotional goodbye.
In La Bohème, Puccini utilises the full power of the orchestra by giving distinct musical themes to major characters and important events. As these motifs repeat throughout the opera, the audience is instantly transported to the special moments and feels as one with the characters. In true Puccini fashion, memorable arias like 'Sì. Mi chiamano Mimì' or 'Donde lieta uscì' and duets like 'O soave fanciulla' abound.