Il Tabarro / Il Castello di Barbablù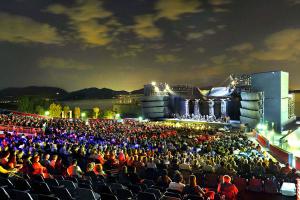 At the Puccini Festival in Torre del Lago, a night of exciting terrors awaits. The thrilling combination of Giacomo Puccini's Il tabarro and Béla Bartók's Il Castello di Barbablú is sure to entertain and deliver just enough scares to keep you on the edge of your seat.
Puccini included Il tabarro (The Cloak in English) into his 'trittico', a series of three single-act operas. The trio debuted on 14 December 1918 at New York's Metropolitan Opera. Giuseppe Adami developed the libretto with inspiration from the play La houppelande by Didier Gold. The plot is focussed on a love triangle between the barge owner Michele, his young wife Giorgetta, and her lover and barge worker Luigi. Giorgetta's absent-mindedness, distance, and odd interest in Luigi's working situation make Michele increasingly suspicious. Thoughts of happier days when he would walk with his wife and their now-dead child all snug under his large cloak overcome the barge owner. Soon his doubts will find their confirmation, and his spacious garment will be hiding something much more sinister.
Il Castello di Barbablú (or Duke Bluebeard's Castle in English) comes next. It too is a macabre one-act opera, by Hungarian composer Béla Bartók, and it often gets coupled with Puccini's Il tabarro. It premiered on 24 May 1918 at Budapest's Royal Hungarian Opera House. The libretto by Béla Balázs draws on the plot of the fairy tale La Barbe bleue by Charles Perrault. Duke Bluebeard and Judith have just been wed and move into his castle, which is engulfed by darkness. The young wife will stop at nothing to bring more light into their lives, but the more windows and doors she opens, the scarier her new home appears. However, her curiosity has taken her too far, and she can never go back from what she has already uncovered. The Puccini / Bartók double bill at the Puccini Festival in Torre del Lago delivers the melodies, the thrills, and the scares that make a wonderfully titillating evening.