Fellini, La Dolce Vita di Federico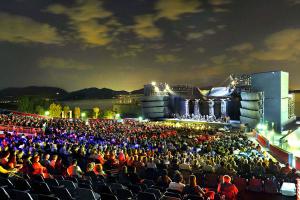 The Puccini Festival in Torre del Lago celebrates the artistic legacy of Federico Fellini, one of the greatest Italian movie directors of all time and a revolutionary filmmaker on a global scale. Thanks to his inimitable vision and inspiration, generations of movie lovers around the world have experienced the unique blend of humanity, passion, humour, surrealism and drama that run through his rich and memorable catalogue. The performance Fellini, La Dolce Vita di Federico features the director's most memorable characters in a series of ballet scenes. Aware of music's powerful emotional effect, Fellini developed close working relationships to great contemporary composers like Nino Rota, Nicola Piovani and Max Richter. Their wonderful melodies and soundscapes are now inseparable from the movie masterpieces, and they drive the Siena Ballet's intriguing performance that honours the Italian filmmaker's life and work.
In a coy nod to Fellini's own fascination with surrealism and fantastical plots, the ballet uses the director's most famous characters to also allude to his own life story. Accompanied by Rota's magical soundtrack to the timeless hit La Strada, a Gelsomina takes the stage and shares a playful and involved dance with a young and charming Fool, drawing a parallel to Fellini's lifelong love for the actress Giulietta Masina, his wife and muse. To highlight Federico's dual role of a gentle husband and a stern director, the rough and scruffy Zampanò takes over to keep the lovers in line. By including these and other titular characters from Fellini's many cinematic masterpieces such as 8 1/2, La dolce vita, and Amarcord in their performance, the Siena Ballet put on a splendid homage to the Italian director.
The ballet spectacle Fellini, La Dolce Vita di Federico fits well into the programme of the Puccini Festival in Torre del Lago. The Maestro and the filmmaker shared a unique storytelling talent. They both valued music's narrative and emotional power and used it like few others could. Gran Teatro all'Aperto Giacomo Puccini opens its doors to a one-of-a-kind celebration that merges music, dance and movie magic into one!