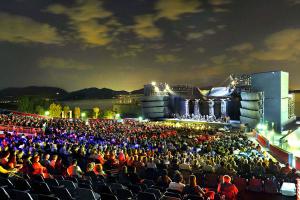 The second half of the 19th century was one of a few golden ages for Italian opera, a period blessed with several generations of outstanding composers who created masterpieces of timeless fame and value. To honour another monumental composer, apart from its namesake, the Puccini Festival in Torre del Lago includes Aida by Giuseppe Verdi in its programme, an homage to yet another one of Italy's national treasures.
Seemingly destined for greatness, Aida was commissioned by Isma'il Pasha, the Khedive of Egypt, to grace the inaugural performance at the newly built Khedival Opera House in Cairo. Giuseppe Verdi accepted the offer and started his long and painstaking creative process. He and librettist Antonio Ghislanzoni worked in constant dialogue and pursued a new artistic goal: to let the music tell the story.
Verdi's avantgarde plans for Aida prolonged the opera's development and production phases, and the breakout of the Franco-Prussian War blocked much of the stage designs and costumes in Paris for close to a year. When Aida finally premiered at Cairo's Khedival Opera House on 24 December 1871, it was clear that the wait was worth it.
With Aida, Verdi takes us back to the times of Ancient Egypt where a classic love triangle blossoms between the Egyptian military commander Radamès, Amneris, Princess of Egypt, who is in love with him, and the captured Ethiopian princess Aida who instantly wins his heart and forces him to choose between the wishes of his heart and the duty to his country. Loyalties are tested, promises are broken, and emotions reach a boiling point, all driven by Verdi's masterfully crafted score.
Aida affords music a leading narrative role like few other operas before or since have achieved. The orchestra's inspired runs and dynamic interjections are a major storytelling device, and the demanding vocal performances reveal much more about the characters than the particular texts they deliver.
For instance, the highly technical opening aria of Ramadès, 'Celeste Aida', one of the most difficult entrances in the tenor catalogue, reveals the lyrical side of the hardened military commander. His famous duet 'Quale insolita gioia nel tuo sguardo' with the scorned Amneris, on the other hand, demonstrates both characters' raw emotionality and aggression. The title character Aida is a dream role for every soprano that covers the full vocal and emotional range. Their powerful voices and the atmosphere of Ancient Egypt will take the stage of the Gran Teatro all'Aperto Giacomo Puccini in Torre del Lago this season.