Vivaldi's Four Seasons, I Musici Veneziani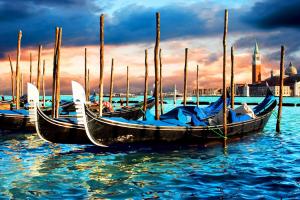 The Four Seasons by Antonio Vivaldi are one of these unique compositions that have not only stood the test of time – they defy it. Around three centuries after their creation, the violin concertos burn with the same creative fire. I Musici Veneziani pay tribute to Vivaldi's timeless genius with a special performance of The Four Seasons, complete with Baroque costumes that will transport audiences back to the heyday of the Venetian Republic. At the august Scuola Grande di San Teodoro in Venice, a classic performance awaits.
Antonio Vivaldi got the idea for The Four Seasons during an extended visit to the Italian countryside. The compositional work was completed in 1723 during his tenure in Mantua, and the concertos were first published in Amsterdam in 1725. The publication was already special in that it included not only the scores but also matching sonnets. Purportedly written by Vivaldi himself, the pieces of poetry provide the context and the narrative direction of each musical movement. At the time, such programmatic musical creation was unheard of, and it is just one more example of Vivaldi's unique style and creative approach.
Their poetic accompaniment aside, The Four Seasons are first and foremost a splendid work of classical music. In the talented hands of I Musici Veneziani, the concertos come to life with the full quality of Vivaldi's heartfelt tribute to nature. The keen listener will identify numerous bird species, rolling rivers, crashing waves, barking shepherd dogs, howling winds, and roaring thunderstorms. All these natural sounds and more find their near-perfect mirror image in the instrumental lines and innovative sound effects Vivaldi concocted. Far ahead of his time, the Baroque composer poured his admiration for nature into his music and created a piece of music out of time and space. The performance of The Four Seasons at Scuola Grande di San Teodoro in Venice once again confirms that such masterpieces exist on a plain of their own.