Vivaldi Four Seasons and Ballet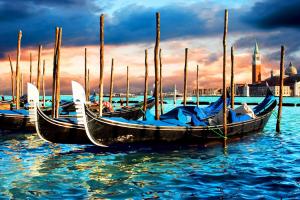 Antonio Vivaldi's body of work is one of the most significant achievements of the Baroque era. The Venetian master, who initially trained for the priesthood, revolutionised orchestral music, paving the way for the symphonic forms that would follow him in the Classical period.
The Musica in Maschera Baroque Ensemble's Vivaldi - Four Seasons and Ballet, performed in the Main Hall of the Scuola Grande dei Carmini, is the ideal way to enjoy the genius of the composer. The Ensemble, comprising harpist, solo violinist and string quartet, all wear eighteenth-century costumes to blend in perfectly with the splendour of their surroundings.
This being Vivaldi, and Venice, the programme just has to include The Four Seasons, the suite of violin concertos for which it is believed the composer himself wrote the sonnets that the music is designed to depict. Vivaldi's great innovation was to conceive that music could interpret a narrative, a way of thinking that was years ahead of its time.
Either side of The Four Seasons, the evening includes two other significant compositions from the Vivaldi canon. First, the Andante molto first movement from his Trio Sonata for violin, lute and continuo in G minor, published in 1731, one of the best examples of Vivaldi's brilliance for adding texture to his orchestration of the different parts. The concert closes with the much earlier Trio Sonata in D minor from 1705. You may well recognise the Sonata's melody even if you are not sure where you might have heard it before. Popularly known as "La Follia", Vivaldi drew his direct inspiration for the work from Arcangelo Corelli's Opus 5 No. 12 Violin Sonata in D minor, known also by the similar title of "La Folia". Its theme can be traced back to one of the oldest scores in the Western tradition and Bach, Beethoven, Liszt and Rachmaninov have all referenced the Folia in their own music.
Musica in Maschera's instrumentalists are joined by a ballerina to offer a visual interpretation of the slow movements of The Four Seasons as well as the Andante molto and "La Follia" to recreate the same sort of entertainment that would have been enjoyed by audiences in Vivaldi's day. And you will be forgiven for glancing up at the astonishing paintings created by Giambattista Tiepolo that adorn the ceiling of the hall. Begun in 1739, when Vivaldi was still alive, and completed in 1749, they provide the perfect finishing touch to a night to remember.