Turandot, Opera by G. Puccini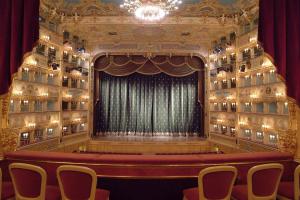 Giacomo Puccini's health was in decline when he began working on Turandot, which would turn out to be his final grand work. An unsuccessful throat surgery put a sudden end to the Maestro's life, yet his final composition streams with joy and creativity that made the opera a lasting success. Turandot comes to life once more this season on the stage of the Gran Teatro La Fenice.
Puccini had already flirted with the Far East in Madama Butterfly, so when he started working on Turandot, the story of a cruel Chinese princess, his musical vocabulary was well-developed and ready to transport audiences to the action's otherworldly setting. The opera's score shines with an impressionist quality and beautifully crafted melodies that make it one of Puccini's finest efforts.
Turandot is the name of a vain and cruel Chinese princess who puts her suitors through a test: to take her hand in marriage, they must answer her three riddles. The first wrong answer results in immediate execution. As he passes through her kingdom, Prince Calaf is revolted by Turandot's callousness - until he lays eyes upon her. Falling madly in love, he enters her challenge and answers the three riddles.
Shocked, Turandot is not willing to marry Calaf. To win her over, he proposes a test of his own: if she finds out his true name by dawn, the marriage is off and he dies. The prince's dedication melts Turandot's cold heart, and at dawn she announces she knows his name: it is Love.
Puccini did not live to complete Turandot's score, so Franco Alfano finished Act III based on the Maestro's notes. During the emotional premiere at Il Teatro alla Scala in Milan on 25 April 1926, the conductor Arturo Toscanini famously stopped the opera at the point Puccini had left it. Turandot remains one of the Maestro's greatest efforts, and it contains 'Nessun dorma', a strong contender for the greatest tenor aria in the operatic catalogue.