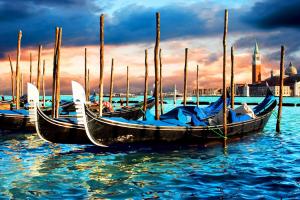 The atmospheric Ridotto Hall opens its doors to a special evening of chocolate, music, and dance. Sweet Valentine invites singles and couples to put on their Baroque costumes and mark lovers' day with a celebration fuelled by good music, fun dances, and lots of sweets. In Venice, a city synonymous with romance, and during carnival season, the offer is simply irresistible. Valentine's Day just got a little more exciting this year. As classical performers in historical costumes unchain pretty melodies that ring in the hall, let the delight of lover's day in one of Europe's most romantic cities fill your heart.
While bringing a date is optional, to participate in Sweet Valentine, you need to secure an appropriate outfit that shows you could party with the Venetian aristocrats of yesteryear. Once you are dressed to the Baroque nines, you can head down to the former Palazzo Dandolo, today's Monaco & Grand Canal Hotel, a stone's throw away from St Mark's Square. The historic Ridotto Hall was the city's very first public gaming room that opened for business in the mid-17th century. The venue still retains that special magic of old-time gambling halls; the atmosphere of excited anticipation and emotion bubbling over is the perfect backdrop for Sweet Valentine to unfold.
Energised by the traditional Venetian carnival sweets and the hot chocolate, you may naturally feel attracted to the dance floor. An experienced pair of dance teachers will take you under their wing and make sure the minuet and other traditional Baroque dances soon become your second nature. As your movements gain confidence and finesse, the true magic of Sweet Valentine unfolds and helps transport you over the centuries to the times of Giacomo Casanova, one of Venice's most famous lovers. Let the historical atmosphere wash over you and take you on its wings to a magical encounter with romance, the Venetian way.