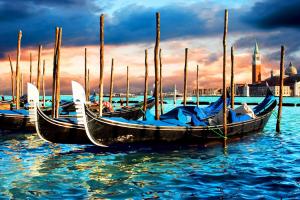 Sometimes the best experiences in life happen when we connect with the past. Opera Balletto helps us to do just that: an exhilarating experience, which combines music and dance with the mystery of one of Italy's most intriguing and ancient traditions - the Venetian mask.
The act of adopting a disguise, synonymous with the Venice of our imaginations, is brilliantly brought to life by the artists of Musica in Maschera. Many of the performers' faces will be hidden from you for the entirety of the evening - the iconic white volto, the bauta with its slightly sinister beak and the more ornate colombina are just a few of the masks you will see - to add a delicious sense of frisson to the entertainment.
The costumes chosen by the company's singers, dancers and instrumentalists, decidedly baroque in style, echo a time when opera and ballet were not seen as separate genres and lend Musica in Maschera an authenticity that is utterly irresistible. The end of the seventeen hundreds was, however, a very different era. The Venetian authorities outlawed both the city's carnival and the wearing of masks, concerned that the practice encouraged loose morals. High art and decadence are, it seems, often to be found arm in arm, but this particular pleasure - one that, for many years, was denied to La Serenissima's citizens - is celebrated in Opera Balletto to the full.
The Scuola Grande dei Carmini, which can be found in the Dorsoduro, provides a fitting venue for Musica in Maschera's show. The Great Schools of Venice were established as charitable foundations that became vital to the evolution of music and were amongst the first institutions on record to feature the playing of a violone, the precursor of the modern double bass. Amongst its good works, the Scuola Grande dei Carmini supported members of its confraternity, provided relief for the destitute and funded dowries.
Nowadays it's lovers of music who beat a path to its door. And notwithstanding the fact that, by appearance, the concerts are very much an eighteenth-century affair, the arias and duets that are selected come from the entire repertoire of opera, ensuring that everyone has a chance to enjoy one of their favourite pieces of music.