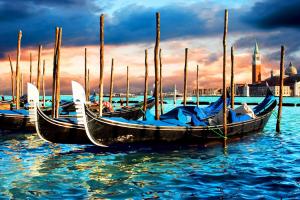 If you are looking for an exclusive masked ball with outstanding cuisine and prime quality entertainment during the Venice Carnival, look no further than Minuetto at the lovely Hotel Danieli. There is no better way to turn back the time a couple of centuries and land right into the lavish atmosphere of 18th-century Venice. What awaits you is a delicious four-course menu with a fish, meat or vegetarian option of your choosing, musical and dance entertainment in the best baroque traditions, and old-time party till the stroke of midnight. So pick out your carnival period costume, transform into a Casanova or a sophisticated countess, and let the good times roll!
You will find Hotel Danieli not far from Piazza San Marco, where its opulent Marco Polo Hall awaits you for the evening's festivities. Minuetto begins at 8 pm with a rich sit-down dinner of four courses. The dinner menu of your choice comes with the perfect pairings of delicious wines to enhance your dining experience. A baroque orchestra, an opera singer and dancers take care of the entertainment while you enjoy your exquisite food. Once you have satisfied your taste buds, the time comes to head to the dance floor and get moving to the baroque beat.
Under the expert guidance of dance teachers, you can get to know the typical dances of the 18th and 19th centuries. Swaying through the decorated Marco Polo Hall in the modern wing of Hotel Danieli, you can lose yourself in another space and time entirely. The costumes, the fine dining and the carefully crafted event atmosphere offer a quintessential and exclusive Venice Carnival memory that you will keep for a long time after the hands of the clock meet at midnight and the Minuetto comes to a close. Uncover your inner Venetian aristocrat!