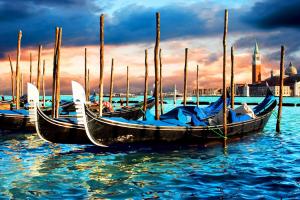 For one memorable carnival night, why don't you immerse yourself in the luxurious, lavish times of Giacomo Casanova? There is fabulous food, invigorating dance, and all-round good fun to be had – just put on your Baroque outfit and head to the opulent Palazzo Dandolo in the quarters of the Hotel Monaco & Grand Canal in the Venetian district of San Marco. The dinner and dance event Minuetto at the Ridotto awaits you in the centre of Venice with a carnival experience that turns back the clock to a time of hedonism and enjoyment. Get ready to jump into the time machine!
Minuetto at the Ridotto commences at 8 pm at the beautiful Salone del Ridotto, the largest hall in the historic Palazzo Dandolo. All guests will have a period-appropriate carnival outfit on in order to immerse themselves further into the evening's time-transcending atmosphere. With a welcome aperitif in hand, you can explore the majestic hall, while a Baroque orchestra and soloists delight you with orchestral numbers and lyrical arias. Soon it is time to take your place for the delectable four-course dinner. At the time of booking, you can request a vegetarian or a meat menu. Each choice is paired with regional wines that make the culinary delight complete.
After you have garnered visual and gastronomic impressions of exquisite Baroque luxury, the moment to get up on the floor final arrives. Under the guidance of experienced teachers, you will learn several group dances. Your capable instructors and the Baroque orchestra are there to make sure you step and sway like true Venetian nobility. In such entertaining and varied activities, Minuetto at the Ridotto draws to a close at midnight, but the memories of this evening across the centuries will fade only slowly. With a maximum capacity of 100 guests, this dinner and dance event in a beautiful historical setting right in Venice's beating heart is sure to impress.