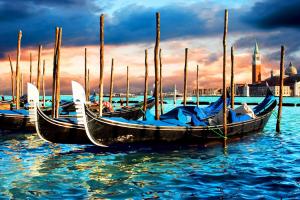 Venice Carnival is all about costumes, masks, and thrills – musical, culinary, dance and everything in between. The exclusive event Minuetto 1800 at the historic Ridotto Hall of Dandolo Palace, today's Monaco & Grand Canal Hotel, combines all these vital carnival aspects into one truly special evening. With an authentic period costume and good cheer, you will be ready to take a flight of fantasy all the way back to Venice's prime party times when the aristocracy enjoyed lavish soirées with live music, good drinks, and a level of exuberance that few can imagine or attain today.
Setting the mood right from the start, Minuetto 1800 begins with a welcome aperitif. Cocktail Bellini, sparkling wine, and non-alcoholic beverages as well as tasty baked bites already hint at the delights that are about to come. The four-course sit-down dinner, with vegetarian or meat options, features classic Mediterranean creations with a twist and also includes a choice of regional wines and water. In the classy environment of the former Palazzo Dandolo, the delectable dishes and good drinks taste all the better.
Minuetto 1800 would not be complete without music and dance, of course. A group of musicians with period costumes and historically appropriate instruments deliver the tunes, and a group of experienced instructors invite you to the dance floor. You can learn the steps of the most popular party routines from way back and fully immerse yourself into the celebratory atmosphere of the Venice of old. The costumes and masks contribute to the historical feeling and also help you overcome that little bit of apprehension you might feel towards busting a move in front of company. At the beautiful Ridotto Hall, in the time warp of carnival attire, music, and culinary delight, it is time to let yourself go and let the special historical evening take its course.
Please take note that wearing a historically appropriate costume is obligatory for this event.