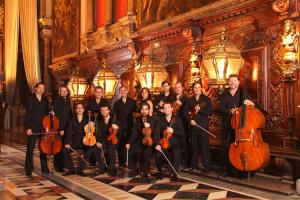 Too often, the only time we hear one of Antonio Vivaldi's concertos is when we are in a hotel lobby, a lift in a shopping centre or held in a queue on the telephone. Usually it will be a fragment from The Four Seasons, taken out of context, that cannot possibly do justice to the magnificence of Vivaldi's music.
Fortunately, the artists of Interpreti Veneziani have reclaimed Vivaldi for us, performing all twelve moments of The Four Seasons as a whole, as well as many of the other hundreds of concertos the composer wrote, so that we may appreciate these works as Vivaldi originally intended - in their entirety.
Interpreti Veneziani is a chamber orchestra formed in 1987 and based in Venice that has gone on to become one of the most sought-after ensembles in the world. Their engagements have taken them to the Bayreuth, Melbourne and Prague Music Festivals and for many years they have organised their own Vivaldi Festival in Japan. In 1991, they played at the World Vision telemarathon at the Kirov Theatre (now called the Mariinsky Theatre) to mark the change of the name of the city of Leningrad back to St. Petersburg.
Notwithstanding their international success, Interpreti Veneziani devote the majority of their time to Venice with an annual season of some two hundred concerts. The former Church of San Vidal, which was originally built in 1084, in the sestiere of San Marco, provides a superb venue for these magical events.
Thanks to Interpreti Veneziani's extensive command of the repertoire, no two evenings at the Chiesa di San Vidal are the same. Vivaldi is ever-present and The Four Seasons often feature. But many of his other works make an appearance too, from his Concerto for violin, strings and harpsichord (Opus 8, No. 5), popularly known as "La Tempesta di Mare" to the Concerto for violin, strings and harpsichord (RV 199), "Il Sospetto".
Each event starts with Vivaldi, but there are outings for other composers too, many of whom are not heard often enough, such as Luigi Boccherini, Giambattista Cimador, Francesco Geminiani and Ottorino Respighi. More familiar names like Albinoni, Bach and Haydn can also sometimes be found on the programme.
By including the works of other composers in their celebration of Vivaldi, the artists of Interpreti Veneziani offer a fascinating window on the Baroque era, one of the most inventive periods in the history of music.