Ensemble Guarneri di Venezia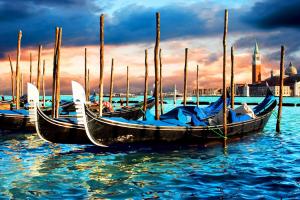 With over a thousand strong showings on renowned stages in Europe, North America and Asia, the Ensemble Guarneri di Venezia is offering a series of very special classical concerts in its beautiful home city of Venice. This is a prime opportunity for fans of Baroque and Romantic classical compositions to enjoy their favourite music in the inimitable, opulent setting of the Sala degli Specchi at Ca' Zenobio Collegio Armeno. The unique combination of the musical and architectural styles makes each performance one for the books. On any of the evenings, the talented ensemble will choose one of three set lists and take you away on a luxurious and surprising musical journey. Every concert holds special wonder – join in!
Thanks to their extensive experience and talent, the Ensemble's musicians are well-versed in a number of genres and periods that allow them to put on remarkable performances with distinct generic and stylistic signatures, where no two are exactly alike. The Ensemble Guarneri Classic concert, thus, showcases the beloved Baroque sensibilities of Heinrich Ignaz Franz Biber, George Frideric Handel and Antonio Vivaldi. The Ensemble Guarneri Virtuoso concert includes stellar moments from the works of George Frideric Handel, Gioachino Rossini, Georges Bizet, Antonio Vivaldi and François Francoeur. The selections in this performance require exceptional dexterity and make every number a showstopper. Finally, the programme of the Ensemble Guarneri Baroque concert concentrates on the rich catalogue of Antonio Vivaldi and his peers to deliver a deep immersion into one particular musical period. The ensemble's reliance on authentic Baroque instruments makes this concert especially impressive and outstanding.
Ca' Zenobio Collegio Armeno's Sala degli Specchi offers the ideal backdrop for these three extraordinary surprise concerts. It bears the frescoes of Louis Dorigny and Giambattista Tiepolo and offers a remarkable representation of the Baroque style in art and architecture. The beautiful venue has attracted artists from many different styles over the years. Therefore, Ensemble Guarneri di Venezia feels at home in there just as Madonna did when she shot the iconic video for 'Like A Virgin' in that very same hall. Touch a piece of cultural and musical history and hear a surprise selection of favourite classics in inimitable Venetian settings!