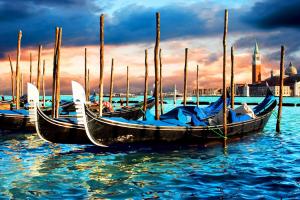 The Venice Carnival is not only about big ballroom dances and opulent dinners. On the contrary, the beloved annual event is full of smaller, more intimate offerings that still carry the carnival spirit and add up to one splendid Venetian experience. Dancing Chocolate at the Hotel Splendid Venice presents exactly that kind of opportunity: in your Baroque carnival costume, you can enjoy hot chocolate and classic Italian sweets, and you can dance to the music of a trio of live musicians. With a maximum capacity of 40 patrons, Dancing Chocolate strikes the perfect balance between fun and exclusive. Starting at 3:30 pm in Venice's chic San Marco quarter, get ready for a thoroughly entertaining afternoon!
As part of the Venice Carnival in Costume® event series, Dancing Chocolate takes place in the Hotel Splendid Venice's campiello. The small square covered by a glass dome is cosy and inviting, a pleasant outdoor-like atmosphere that still protects you from the elements. A selection of Venetian sweets and hot chocolate are there to replenish your strength and lift your spirits. Dressed to the nines in your period carnival costume, you can immerse yourself in the Venice of centuries past. As you mingle with fellow modern-day countesses and Casanovas, you can throw a bridge to another time of Italian adventurers and lovers that will leave you with pleasant, lasting memories.
Music and dancing are the other essential elements of Dancing Chocolate. A classical trio is in charge of providing the event with appropriate Baroque accompaniment. A capable instructor and his partner will guide you through the steps of the most popular dances of the time. No prior dancing experience is required – just let the Venetian vibes flow through you! In about two hours' time Dancing Chocolate at the Hotel Splendid Venice draws to a close, but the energy rush it delivers is bound to lead you to further carnival festivities and fun that night!