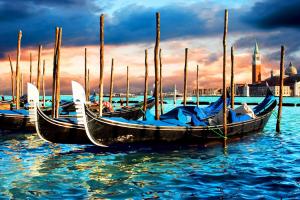 The marvellous Ridotto Hall of the opulent Palazzo Dandolo in Venice is home to a special afternoon for Venice Carnival lovers with a passion for traditional dance and Italian sweets. The historic venue, now part of the excellent Hotel Monaco & Grand Canal in the popular quarter of San Marco, opens its doors for this entertaining event. Enjoy Venetian treats and hot chocolate in the palazzo's historic atmosphere and learn the dance steps Baroque nobility executed with grace and charm. No prior experience necessary – just bring your period costume and lots of good cheer!
The Ridotto Hall entices with its history of excitement and seduction. The great lover Giacomo Casanova saw this public gaming room as his second home where he could work his magic best. Nowadays the venue has preserved the playful atmosphere of yesteryear: As you enter it in your Baroque outfit, you can feel the spirits of merry gentlemen and graceful noblewomen invite you to the dancefloor. Under the accompaniment of a trio of classical musicians, your experienced instructors will guide you through the steps of the most beloved group dances of the time. Get ready to dive deep into the centuries and experience an active, fun carnival afternoon in Venice!
When your energy runs low, you can find reinforcement in an assortment of Venetian pastries and a cup of hot chocolate. The Venice Carnival is known for its fabulous food, among other highlights, and Cotillon at Palazzo exemplifies this aspect of the annual festivities well. Let the creative traditional flavours dance on your palate and let this pleasure seep all the way down to your feet as you swing and sway to the classical music.
Cotillon at Palazzo kicks off at 3:30 pm and lasts about two hours, an optimal length of time to dance and snack in traditional garb and good mood. To ensure everyone can make the most of the beautiful Ridotto Hall and the dance activities, capacity is set at 60 people.