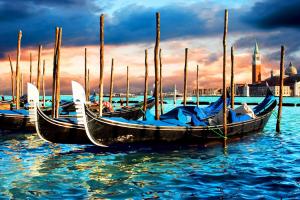 If you are searching for the quintessential Venice Carnival experience condensed in one night, look no further than the Carnival Extravaganza masked ball. The event, hosted at the lavish Palazzo Dandolo, Hotel Monaco & Grand Canal, has everything that you can expect from Europe's beloved event: a themed party with baroque carnival costumes, a delicious four-course sit-down dinner, a live orchestra and period dancing until late hours. In the opulent Ridotto Hall, the spirit of luxury and opulence will spoil you and push you to discover your extravagant and noble side. So, powder up your wig and jump into your silken socks: The Carnival Extravaganza is on!
Once you have put on your 18th-century Venetian costume and found your way to the Hotel Monaco & Grand Canal in the vibrant district of San Marco, the evening of exquisite enjoyment can begin. The doors open at 8:20 pm and a welcome aperitif follows at 8:30 pm. The delicious four-course dinner starts at 9:00 pm, with meat and vegetarian options. Each course comes with a wine pairing that shows off the region's finest chateaus and their outstanding beverages. Throughout the dinner, an orchestra and soloists clad in period attire tickle your ear and your fantasy with evocative instrumental performances as well as arias and songs.
All this already sounds tempting, but there is more: no event would dare call itself a Carnival Extravaganza if it did not let you move your feet, would it? After you have enjoyed your delectable meal, the orchestra and the experienced dancers at Palazzo Dandolo invite you to the dance floor. Under their expert guidance, you can learn the steps of popular period dances like the minuet, the quadrille, and, of course, the waltz. Let the music and the magical atmosphere take you away to the glorious times of Italian charm and hedonism, all in Venice, the city of lovers.