Avanspettacolo Venezia Dinner Show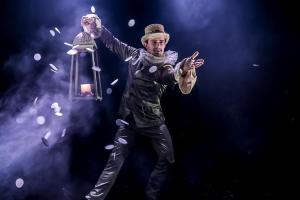 Imagine this scene: You arrive at a classy, ornate restaurant lobby. A greeter welcomes you and takes your coat. You adjust your tie and impeccable suit jacket before you walk into a softly lit bar area where a friendly waitress offers you a delicious cocktail and canapés. A pianist sculpts pleasant classical melodies that caress your ears. You finish your drink and are shown to your table in a majestic baroque dining hall where you enjoy an exquisite dinner. On the stage in front, a tasteful variety performance grabs your attention and does not let go all evening long.
This is what you can expect from the upscale Dinner Show which the Avanspettacolo Theatre Restaurant in Venice puts on for you at regular times. If you are looking for a fun-filled evening with delectable food and top-notch entertainment, Avanspettacolo's exclusive offering is an excellent choice. Indulge in a unique event which brings together gourmet food and variety entertainment into one unforgettable evening!
The Avanspettacolo Venezia Dinner Show kicks off with a welcome cocktail between 8 and 9 pm which includes drinks and a snack buffet. The gala dinner commences at 9 pm with a four-course meal: a starter selection, two main courses and a dessert, plus coffee, water and half a bottle of wine per guest. Avanspettacolo offers delicious Mediterranean menu options. Meat, seafood, vegetarian, or vegan, you are in for a dining experience in the best Italian culinary traditions!
As you take your seat for the gala dinner, the Avanspettacolo Theatre Restaurant will appeal to the rest of your senses, too. After the masterful pianist's classical cocktail welcome, the main event can commence. The Grand Magic Show will amaze you with a variety of impressive acts: a mesmerising singer will tug at your heart strings, while an agile contortionist and a company of vivacious dancers will take turns wowing you with their agility and grace.
The Dinner Show continues the great Italian tradition of 'avanspettacolo' variety performances and pairs that with exquisite fine dining. The Avanspettacolo Theatre Restaurant is one of Venice's classiest venues. If you are feeling fabulous, book your ticket, put on your most elegant outfit, and head over there for a truly luxurious evening!