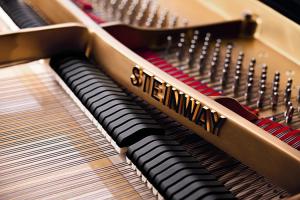 One night changed the life of Giacomo Puccini. On 11 March 1876, Giuseppe Verdi's Aida was being performed in Pisa. Puccini, still a teenager, did not have the money for the train fare from his hometown of Lucca, let alone a ticket for the theatre. Yet he ran for three hours, blagged his way into the house, and decided, that evening, that he too would become an opera composer.
Up until then, it had been feared by those around the young Giacomo, a somewhat indifferent student, that he would be unlikely to follow the career in music that had sustained the Puccinis as far back as anyone in his family could remember. Thanks to Verdi, Puccini, rather than being lost to world, gave us some its greatest works for the stage, including La bohème, Madama Butterfly, Turandot and Tosca.
How apt then that "Puccini & Verdi" should be one of the concerts in the series presented by the Puccini International Permanent Festival in Lucca; an evening of these two great composers' most famous arias and duets, sung by soprano and tenor, and specially arranged for the grand piano.
Puccini and Verdi revolutionised opera, in their own way, as much as Wagner, and through their work shaped our very modern concept of the meaning of tragedy. Their best characters are not the movers and shakers of history, but the ordinary people caught up in its wake. Verdi's Violetta Valéry (La Traviata) and Luisa Miller; Puccini's Mimì and Floria Tosca are all the victims of events, not due to their flaws, but because of the actions of others.
For both composers, the quality of the stories they set their music to was vitally important. Verdi's readiness to take on the censors to save his librettos from cuts was matched by Puccini's painstaking research to ensure the authenticity of his dramas. And the most important players in their operas were not the ensembles or stagings, but always the individuals, making the music they sing, seated in emotions every one of can recognise, all the more compelling.
With many other events in its repertoire, including "A Night At The Opera", "Puccini's Women", "Italian Opera Evening" and "Puccini & Mozart", Puccini's Festival in Lucca promises an evening of enchanting music whatever your taste in opera.