The Three Tenors & Dinner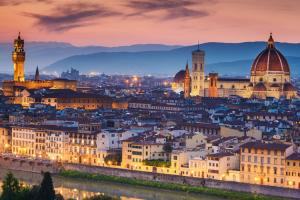 The Three Tenors & Dinner concert packs a formidable Italian punch. An evening of culinary and musical delights in the heart of Florence awaits you with a selection of delicious dishes and marvellous melodies from Italy's incomparable treasure trove. The evening begins at the restaurant Il David, which delivers local favourites in a cosy atmosphere. Then comes the concert at the Auditorium di Santo Stefano al Ponte Vecchio, which takes its cue from the original tenor trio of Luciano Pavarotti, Plácido Domingo and José Carreras that took the world by storm. The programme features three talented young tenors who take turns presenting beloved opera arias by Giuseppe Verdi, Giacomo Puccini, Pietro Mascagni and Gaetano Donizetti as well as passionate Neapolitan songs. A Florentine evening for the books, without a doubt!
Starting at 6 PM, a menu of Italian delicacies awaits you at the restaurant Il David on Piazza della Signoria. A classy three-course menu, a complimentary glass of red wine as well as water round off the menu. You can enjoy your delicious meal in the atmosphere of an authentic Florentine 'ristorante', right across the majestic Palazzo Vecchio and its imposing clock tower. Once you have satisfied your taste buds, it is time to head over to the Auditorium di Santo Stefano al Ponte Vecchio, just a couple of minutes away on foot through the charming streets of downtown Florence.
Backed by an ensemble of mandolin, double bass, and piano, the Three Tenors bring unforgettable classics to the auditorium's stage. Among them, you can expect Donizetti's 'Una furtiva lagrima' from the brilliant L'elisir d'amore, Puccini's 'E lucevan le stelle' from the tragic Tosca, and Verdi's 'Questa o quella per me pari sono' from the dramatic Rigoletto, to name but a few. The trademark Neapolitan songs 'Funiculì Funiculà' by Luigi Denza and 'Torna a Surriento' by Ernesto De Curtis also make a prominent appearance. The ensemble gets to shine, too, with a few instrumental numbers, such as the intermezzo from Mascagni's Cavalleria rusticana. Altogether, The Three Tenors Concert & Dinner delivers authentic Italian experiences for the senses.