The musical Renaissance in Florence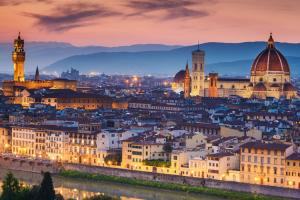 The Renaissance was a time of cultural rejuvenation and invention. By looking back to the ancient classics, the period's artists created a unique amalgamation of old forms and new substances. The Musical Renaissance concert at St Mark's English Church in Florence includes some of the best tunes composed in Europe between AD 1500 and 1600. Especially in Florence, the seat of the powerful Medici family with their continued appreciation for the fine arts, this musical journey leads straight home. A soprano accompanied by harpsichord, Renaissance lute, and theorbo unleashes the melodies of Claudio Monteverdi, Giulio Caccini, Girolamo Frescobaldi, Jacopo Peri, Robert Johnson, Henry Purcell, John Dowland, and others major names from this wondrous musical period.
Just as the Renaissance looked back to the past with reverence and admiration, so does The Musical Renaissance concert pay homage to the context, in which the compositions originated. The performers apply the techniques and play the instruments that were typical for the time. The programme is divided into five distinct sections, each with an overarching theme. First comes L'Amore, or Love, with Cristofano Malvezzi's 'Sinfonia'. On its heels come three songs by Giulio Caccini, the tenor and master of the archlute. Part II is titled La Passione, or Passion, and opens with 'Fantasia' by Cosimo Bottegari, a hypnotic piece for solo lute. Two songs by Girolamo Frescobaldi and Claudio Monteverdi tell of the pleasure and pain of longing.
Part III, L'Allegrezza, or Cheerfulness, picks up the mood with Frescobaldi's Variations on an aria 'La Frescobalda' for solo harpsichord and vocal numbers by Monteverdi and Jacopo Peri. Part IV, Il Ricordo, or Memory, injects a bit of English melancholy with the instrumental and vocal works of Robert Johnson and John Dowland. The final Part V, Il Sogno, or Dream, features Henry Purcell's 'Ground in C minor' for solo harpsichord and his 'Evening Hymn'. Thus ends The Musical Renaissance, an exciting trip to the origins of opera and classical music.