The Marriage of Figaro, Opera by W. A. Mozart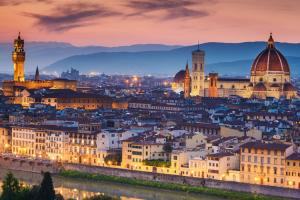 Who would have thought that one of the most celebrated representatives of Italian opera was written by an Austrian? Well, not just any Austrian. When Wolfgang Amadeus Mozart aspired to write an opera buffa in the 1780s, his decision was both creative and political. The Viennese court was in love with Italian opera, and a success in that genre would grant the young composer the royal favour he always sought. While Mozart's political bet did not pay off, The Marriage of Figaro or Le nozze di Figaro in its original Italian) gained the public's raving approval. The production at the St Mark's Anglican Church in Florence provides a special opportunity to touch true genius.
In the elegantly subdued atmosphere of this special venue, a simplified musical and stage arrangement makes for a much more immediate and intimate experience of this classic opera. Mozart's unruly melodies and unique gift for accompaniment take on a unique quality in the capable performance of five singers and a pianist. Under those seemingly unusual conditions, the composer's undoubted talent shines even brighter.
Mozart developed The Marriage of Figaro with the Italian librettist Lorenzo da Ponte, based on the politically charged play Le marriage de Figaro by Pierre Auguste Caron de Beaumarchais. In a series of hilarious misunderstandings and double-crossings, it follows the escapades of the servants Figaro and Susanna on their wedding day. Before they can say 'yes', however, their lustful master Count Almaviva wishes to make use of his "droit du seigneur" and be the first to bed Susanna. Racing against time and some long odds, the two lovers must use all their wit and trickery to restore justice and let true love win.
Ever since its premiere in Vienna's Burgtheater on 1 May 1786, The Marriage of Figaro has delighted audiences with the vivacity of its music and the side-splitting humour of its writing. Come to St Mark's Church in Florence and witness Mozart's greatness in a new format that will charm you with its minimalism and entertain you on a whole new level!