The Magic Flute, Opera by W. A. Mozart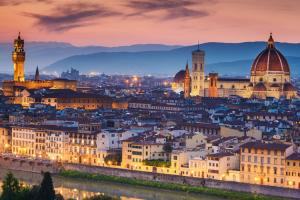 Wolfgang Amadeus Mozart had spent a few years developing his creative rapport with Emanuel Schikaneder and his troupe since 1789. The composer regularly contributed music to various projects that enjoyed popular accolades. When Schikaneder developed a fairy-tale libretto packed with humour and Masonic symbolism, it was natural for Mozart to assume compositional duties. Thus, The Magic Flute was born. It was to be one of Mozart's most recognisable and cherished works, exemplifying his unique approach to composition and instrumentation. The premiere took place on 30 September 1791 at Theater auf der Wieden in Vienna. From the first showing, The Magic Flute stole audiences' hearts and left critics ecstatic. This season, its unbridled melodies and themes of freedom and enlightenment unfold on the stage of Teatro Aurora in Florence-Scandicci.
The fantastical plot of The Magic Flute introduces audiences to Prince Tamino who stumbles into a curious quest: He must rescue Princess Pamina, the daughter of the Queen of the Night, from the wizard Sarastro who has taken her hostage. Upon seeing her portrait, Tamino is instantly smitten and readily accepts the task. He also gains a faithful partner on his journey, the boisterous bird-catcher Papageno who himself longs to find true love. As the two advance on their noble quest, they find out that not everything is what it seems, and perhaps Sarastro is not the evil cult leader the Queen made him out to be.
The wondrous world of The Magic Flute matches fully with Mozart's rich and inspired score. The arias and ensembles are lively and memorable, from Papageno's wildly entertaining solos and duets to the Queen of the Night's show-stopping coloratura performance. In addition to the vocal parts, the instrumentation ranks among Mozart's most extravagant, complete with magical flutes and bells to reflect some of the charmed props in the plot. At Teatro Aurora in Firenze-Scandicci, heroism, spells, wisdom, and love mix all together into a rousing opera performance.