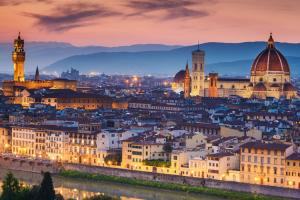 When you think of a violin concerto, nothing comes to mind faster than The Four Seasons, the magnum opus of Antonio Vivaldi. At the majestic Auditorium Santo Stefano al Ponte on Piazza di Santo Stefano in the historical centre of Florence, a special concert features that famous work alongside other popular orchestral pieces by greats such as Johann Pachelbel, Johann Sebastian Bach and Wolfgang Amadeus Mozart. In the talented hands of the Orchestra da Camera Fiorentina, one of Europe's leading chamber orchestras that enjoys global fame and recognition, these Baroque and Classical works simply spring to life.
The programme begins with the well-known Canon, from the longer work Canon and Gigue for Three Violins and Basso Continuo, by Johann Pachelbel. The graceful melody in the glorious key of D-Major has become Pachelbel's calling card thanks to countless interpretations and recordings. Ironically, this was the single canon the German Baroque composer ever wrote. On the heels of this classic comes another signature composition from the period, an Air by Johann Sebastian Bach, coming from his celebrated Orchestral Suite No. 3. Its gentle melodic line unfolds amid perfectly timed orchestral swells that seem to engulf the listener.
Moving a few decades forward, the concert then presents A Little Night Music (the literal yet inaccurate translation of Eine kleine Nachtsmusik, a serenade) by the great Wolfgang Amadeus Mozart. Written at the same time as his soul-shaking opera Don Giovanni, this chamber ensemble piece overflows with contagious energy and optimism. Last but not least come The Four Seasons by the most prominent representative of Italian Baroque, Antonio Vivaldi. Inspired by an extended visit to the Italian countryside, the gifted composer crafted these four concertos and used his unique musicality and imagination to recreate the many sounds of nature with clever instrumentation. A variety of birds, buzzing bees, murmuring brooks and summer storms came from under Vivaldi's pen.
The Four Seasons ensemble concert thus features some of the finest orchestral works from the late 16th and the 17th century, a time of great musical invention and inspiration. Thanks to the performance of the celebrated Florence Chamber Orchestra, founded by the famous Italian conductor Giuseppe Lanzetta, these musical gems sound all the more enthralling. The experience of playing on countless international stages will become apparent to the guests of Auditorium Santo Stefano al Ponte, not far from Ponte Vecchio in the heart of Florence.