The Barber of Seville, Opera by G. Rossini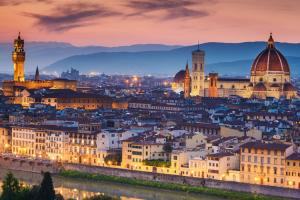 Gioachino Rossini's excellent comedy opera The Barber of Seville hardly needs an introduction after over two centuries' triumphant reign atop the repertoire. Teatro Aurora in Florence-Scandicci mounts a production of the hilarious, lively story of Count Almaviva's pursuit of beautiful Rosina with the help of his clever serf Figaro. The classic opera premiered on 20 February 1816 at Teatro Argentina in Rome. Even though that inaugural performance was somewhat disastrous, The Barber of Seville proved its worth over the years and quickly earned a place among the best examples of opera buffa in history. Countless revivals and new productions later, Rossini's masterpiece is still pure gold.
The Barber of Seville traces its origins to the French play of the same name by Pierre Beaumarchais, and it has inspired a number of operatic adaptations. Rossini recruited Cesare Sterbini to produce a libretto in Italian. The premiere of The Barber of Seville was marked by a number of negative events. Rossini's top choice of lead soprano pulled out for financial reasons, several onstage accidents interrupted the performance's flow, and supporters of rival composer Giovanni Paisiello, who had penned his own version of the escapades of Figaro, soured the mood by hissing and jeering throughout. However, just like Beumarchais' play, Rossini's opera quickly won popular favour, and the second performance was already a huge success.
The success of The Barber of Seville lies equally in its comedic chops and Rossini's impressive music. The composer, known for his outstanding productivity, produced the score in about three weeks' time, in part relying on previous work. For instance, the famous overture with its signature repeated calls "Figaro!" was recycled from two previous stage works. It is safe to say that the melody found its true home in The Barber of Seville, as it has become the work's calling card. The opera's plot follows Count Almaviva's courting efforts towards Rosina, the ward of Dr Bartolo who, despite his much greater age, has his own romantic aspirations towards her. In his endeavour, the Count has a faithful helper in Figaro, the cunning and light-hearted servant who is determined to apply his talents in service of true love. At Teatro Aurora in Firenze-Scandicci, laughs and romance go hand in hand this season.