Roméo et Juliette, Opera by C. Gounod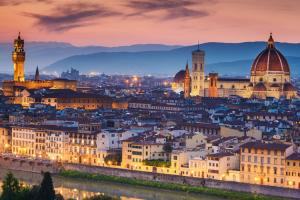 William Shakespeare's timeless play Romeo and Juliet has long carved its place in popular culture and has been re-imagined and re-hashed countless times. The opera Roméo et Juliette by the French composer Charles Gounod ranks among the lesser-known musical adaptations of the Bard's beloved source text, and yet its staying power is undeniable. Already at its premiere on 27 April 1867 at the Théâtre-Lyrique in Paris, it left a powerful impression with the many wonderful duets between the main characters as well as Juliet's waltz aria 'Je veux vivre'. Teatro del Maggio Musicale Fiorentino in Florence revives the Gounod classic this season.
Leading up to its premiere, Roméo et Juliette did not prove easy for Charles Gounod. There were casting issues, which forced the composer to create an alternative version of most of the second act to accommodate the abilities of the available singers. Despite the initial difficulties, the debut performance went down great with audiences and critics alike. Even though it follows Shakespeare's play faithfully, Gounod's opera shifts the focus slightly away from the feuding families and explores the relationship between Romeo and Juliet in a series of outstanding duets. Aided by the storytelling prowess of librettists Jules Barbier and Michel Carré, the composer dives deep into the emotional world of the two lovers and dresses their young love in one beautiful melody after the other.
The tragic love of Romeo and Juliet needs little introduction, and this French opera adaptation sticks closely to the well-known narrative. Roméo Montague and Juliette Capulet fall for one another while their families are embroiled in a mortal feud. As the confrontations escalate, the lovers must resort to drastic measures to try and escape the cycle of violence and hate. Yet as we know, they ultimately fail. Teatro del Maggio Musicale Fiorentino in Florence stages Charles Gounod's Roméo et Juliette in its full emotional splendour.