Puccini's Highlights in 90 Minutes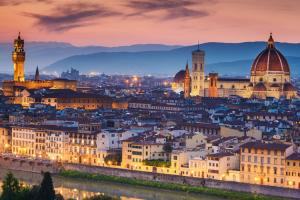 The life and art of Giacomo Puccini have both enjoyed the sustained attention of opera connoisseurs for over a century. The composer and the person behind timeless classics like Tosca, La Bohème, Madama Butterfly, or Turandot certainly deserves a closer look, and the concert Puccini's Highlights in 90 Minutes at St Mark's Anglican Church in Florence offers that and more. A soprano, a tenor and a baritone accompanied on the piano present the landmark arias and duets from Puccini's most famous works, complete with role-appropriate costumes. All the while, a narrator relates the musical works to the Maestro's life events. The intriguing combination of life and art is sure to fascinate audiences at the historic Anglican church in the heart of Firenze.
Giacomo Puccini's highlights started coming in the mid-1880s. After a couple of hit-and-miss efforts, like his first stage work Le villi and the critical and commercial flop Edgar, the then-30-something composer scored his first success with Manon Lescaut in 1893. It was the first of a series of Puccini hits based around a tragic heroine. His success grew even further with La Bohème (1896) and the tragic love of Rodolfo and Mimì that still brings tears to the eyes of audiences around the world. Puccini then kicked off the 1900s with Tosca, one of his most successful works and his first brush with verismo, the ultra-realistic approach to plot development and on-stage action that would become his calling card. A near-death experience in an automobile crash postponed the completion and premiere of his next work, Madama Butterfly (1904), which would be his first adventure in the Far East. His final, unfinished work Turandot would be the last.
Puccini's Highlights in 90 Minutes delivers on its title with a selection of the best arias from the composer's impressive catalogue. The intimate arrangements for piano and voice let the Maestro's compositional genius shine with a new light, and the historical and biographical contexts deepen the pieces' effectiveness and impact. At St Mark's in Florence, a unique celebration of one of the grand masters of Italian opera commences.