New Year's Eve Opera Gala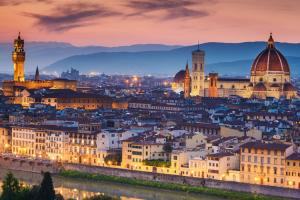 Bidding farewell to the old year with a trip to Florence is already a sign of good taste, but there is an even classier way to celebrate the special day. The New Year's Eve Opera Gala at Chiesa di Santa Monaca brings you into the world of classical music at a venue with truly special atmosphere. As the talented singers of Italian Opera Florence go through the evening's programme under the accompaniment of Maestro David Boldrini at the grand piano, you will find yourself drifting on the wings of timeless melodies. At the stroke of midnight, you will greet the New Year with a special toast and start into it with a few more classics before the musicians take their bow.
The programme of the New Year's Eve Opera Gala lets you experience well-known masterpieces at an arm's length. In a minimalist arrangement for piano and voice, the arias and duets come alive in a totally different way compared to their usual orchestral flamboyance. You can expect to hear excerpts from the crème de la crème of comic and dramatic opera like La Bohème and Tosca by Giacomo Puccini, The Marriage of Figaro and Don Giovanni by Wolfgang Amadeus Mozart, The Barber of Seville by Gioachino Rossini, and La Traviata by Giuseppe Verdi.
All these beautiful melodies ring even brighter at the splendid Chiesa di Santa Monaca in the very heart of Florence. The Renaissance church has kept the atmosphere and spark of this creative and optimistic period, and its unique ambiance flows into the tunes to deliver a one-of-a-kind classical concert. Santa Monaca's Church often plays host to a number of performances, but the New Year's Eve Opera Gala has to be the highlight of the season beyond the shadow of a doubt. See how a classical concert in chamber format can still feel large and special thanks to the musicians' talent and the venue's historical appeal. A perfect way to ring in the New Year in Florence!