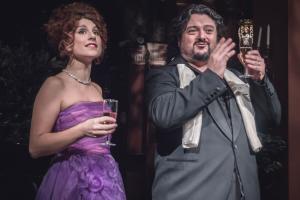 When you visit the beautiful city of Florence, you will surely notice that love is in the air. It blooms in the Bardini Gardens and peeks over the historic Ponte Vecchio towards the breath-taking Duomo. A truly special event captures that most wonderful emotion and puts it into music! Love Duets, a classical concert at the charming and intimate St Mark's Anglican Church, showcases the prettiest Italian melodies from celebrated operas, famous Neapolitan songs and romantic pieces for solo piano. If there ever was a performance that celebrates love and music in perfect harmony, this must be it.
To match the elegance and exclusive feel of St Mark's, Love Duets presents its famous tunes in a stripped-down arrangement for piano and vocal only. In this minimalist presentation, the melodies truly shine and the audience feels much closer to the magic that unfolds in the spotlights. A soprano and a tenor or baritone take turns presenting famous arias and songs. The high points of the performance come when they join forces to make some of the most emotional and earnest declaration of love the operatic stage has known. To provide contrast without losing any of the electrified atmosphere, sensual piano pieces round off the programme.
The concert Love Duets is really a "who's who" of classical music from Italy and the rest of Europe. The evening features masters such as Giacomo Puccini with his adored 'Nessun dorma' from Turandot, 'O soave fanciulla' from La Bohème or 'E lucevan le stelle' from Tosca, Giuseppe Verdi with the splendid 'Parigi o cara' from La Traviata or 'La donna è mobile' from Rigoletto, Gioachino Rossini with The Barber of Seville's 'Dunque io son', and Wolfgang Amadeus Mozart with Don Giovanni's 'Là ci darem la mano', among others.
No concert of Italian classical music is complete without the deep, emotion-laden Neapolitan songs such as the joyful ''O sole mio' or 'Funiculì, Funiculà'. The solo piano numbers burn with the passion of Frédéric Chopin, Franz Schubert and Ferencz Liszt and their best waltzes and nocturnes. Love Duets at St Mark's delivers on its promise!