Lo sposo di tre e marito di nessuna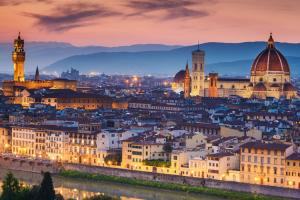 Luigi Cherubini built his career around sacred music and opera seria, but his first opera buffa is a juggernaut of laughs and musical inventiveness that you would not want to miss! Lo sposo di tre e marito di nessuna first premiered in 1783 at the San Samuele Theatre in Venice and gave Cherubini his greatest success in comedy. At a time when the young prodigy composer was feeling stifled by the rigid norms of Italian opera, this first attempt in a novel genre gave him a strong creative boost. Teatro del Maggio Musicale Fiorentino in Florence digs a wildly entertaining opera buffa gem out of the archives and shines a light on a lesser-known side of Cherubini's rich catalogue.
Lo sposo di tre e marito di nessuna (Italian for 'The spouse of three and husband to none') is based on a libretto by Filippo Livigni. It introduces us to Don Pistacchio who is betrothed to Donna Rosa, but even before the marriage is finalized, his heart is already elsewhere. Two other women quickly catch his eye: the noble Donna Lisetta and the simple girl Bettina. A colourful cast of characters engages in incessant manipulation, trickery, cross-dressing and mockery as Pistacchio meanders through the convoluted love ties he desperately tries to forge. In the best traditions of Italian commedia dell'arte, Lo sposo di tre e marito di nessuna starts off on a wild proposition and continues turning up the action and laughter grade until it reaches a bombastic and wildly entertaining climax.
Cherubini's score demonstrates the composer's impressive musical talent and range. The opera is full of bittersweet ensembles, heartfelt arias that lend a peek into the characters' inner worlds, and titillating orchestral passages that move the action along and keep the audience's attention locked. On the stage of Teatro del Maggio Musicale Fiorentino, Lo sposo di tre e marito di nessuna delivers laughter and musical invention galore.