L'amico Fritz, Opera by P. Mascagni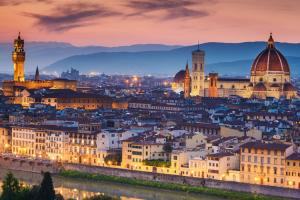 Pietro Mascagni secured his name writ large in the operatic pantheon with Cavalleria rusticana, a verismo masterpiece, but he left us much more than this one shining diamond. His opera L'amico Fritz is well-known to Italian connoisseurs, but many international classical music fans may not have had the chance to hear it yet. This season, Teatro del Maggio Musicale Fiorentino in Florence revives this hidden gem in Mascagni's legacy. Originally premiered at Teatro Costanzi in Rome on 31 October 1891, L'amico Fritz enjoyed steady popularity throughout the years. Though not as gripping as Cavalleria rusticana, it certainly does justice to the composer's creativity and talents.
The source text for this romantic story was the French novel L'ami Fritz written by Émile Erckmann and Pierre-Alexandre Chatrian. Nicola Daspuro (under his pseudonym P. Suardon) created the libretto, with some help from Giovanni Targioni-Tozzetti. The story focuses on the rich landowner Fritz Kobus who starts out as a self-confessed lifelong bachelor who is supremely sceptical of marriage. David, the local rabbi and Fritz's friend, is of the opposite opinion. The two enter a bet: should Fritz ever marry, he'd give David one of his vineyards. Fate puts Fritz together with Suzel, the daughter of one of his tenants, and soon enough the stubborn bachelor must confront the growing new feelings in his heart that may well cost him the bet.
Mascagni's characteristic expressive compositional style matches the plotline of L'amico Fritz excellently. The hidden feelings that slowly come to the surface find their perfect representation in the emotion-laden score. Audiences at Teatro del Maggio Musicale Fiorentino will find the "Cherry Duet" Fritz and Suzel share in Act II particularly stirring. For fans of Mascagni and 19th-century Italian opera, L'amico Fritz will be a breath of fresh air and likely a new discovery to add to their list of favourites.