La Traviata, Opera by G. Verdi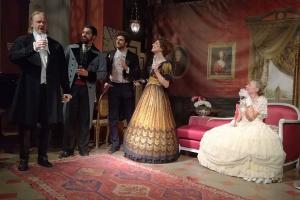 La Traviata ranks among Giuseppe Verdi's most celebrated operas. Its glorious toast 'Libiamo ne' lieti calici' and bold arias like Violetta's 'Sempre libera' or Alfredo's 'O mio rimorso!' are among the Maestro's calling cards. Its tragic plot makes the work seem larger than life itself. The performance at St Mark's Anglican Church in Florence lets you experience a different arrangement of the classic work. Just six talented singers accompanied by a piano bring La Traviata to life in an intimate setting that allows you to uncover new depths to Verdi's musical and dramatic genius.
The origins of La Traviata ("The Fallen Woman") hide in Alexandre Dumas' La dame aux camélias, a fictionalised account of the tragic life of Parisian courtesan and social climber Marie Duplessis. Beautiful, intelligent and self-confident, she took high society by storm, but tuberculosis cut her life short. Touched by the tragic nuances of her brief yet memorable existence, Verdi enlisted the services of his faithful librettist Francesco Maria Piave to adapt the story for the operatic stage.
And so we come to the impossible romance between Violetta Valéry and nobleman Alfredo Germont. Initially cynical, the courtesan slowly opens up to the young man's pure love. Just as their happiness blooms, Alfredo's father Giorgio intervenes to break the couple apart. Will Violetta sacrifice her own happiness to preserve the good name of her lover's family?
Nowadays a magnum opus in the world of opera, La Traviata had its infamous premiere in Venice on 6 March 1853. The production of Teatro La Fenice was under-rehearsed, and the casting left audiences wondering how a voluptuous middle-aged soprano could ever be the tender, dying Violetta. Unperturbed by the negative response, Verdi had faith in his work and mounted a second premiere that quickly established La Traviata as a cornerstone of the opera catalogue. At St Mark's Anglican Church, just a short walk away from Palazzo Pitti, the chamber-like arrangement of this classic opera lets it shine with new light.