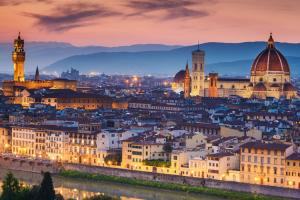 La Traviata a Palazzo in Florence is a superb evening of entertainment that takes place in a sumptuous palatial setting in the heart of the city. The music for the performance was written by one of Italy's foremost operatic composers, Giuseppe Verdi. La Traviata continues to be a highly popular opera all over the globe where it is performed regularly. This event offers the chance to see the highlights of Verdi's great work in a truly historic Italian setting with a range of prices suited to all budgets. Luxury, Golden, VIP and standard tickets are all available for what constitutes a wonderful Florentine evening that will be unforgettable. Bear in mind that Luxury ticket holders are able to skip-the-line and that a glass of prosecco is included within the fee.
The event begins at 8:15 pm with a tour of the historical venue. La Traviata a Palazzo takes place at the opulent Palazzo del Pugliese, an architectural gem of 15th-century Florentine architecture. In room after room, you will feast your eyes upon prime examples of Italy's luxurious, ornate Rinascimento style that defined a large part of the Renaissance period. The opera will begin at 9 pm on the richly frescoed Noble Floor (or Piano Nobili in Italian) on the second level of Palazzo del Pugliese.
At 9 pm, the music commences with a number of singers and professional musicians who are drawn from the leading theatrical houses in Italy. These artists have years of experience in the world of Italian opera to bring to the performance. The operatic ensemble La Lirica Di Firenze takes to the stage to present a repertoire of famous melodies with brilliantly put-together sets and costumes that are suited to the age of the setting. During the performance, a soprano takes the part of Violetta Valéry, a courtesan, who is the lead character. Other important parts include Alfredo Germont, a provincial young man, and Giorgio Germont, his father. These parts are played by a tenor and a baritone, respectively. The on stage action is supported by some great accompanying musicians and superb dancing. The tour plus the chance to see a classic opera in a great setting means that this event is not to be missed by any visitors to Florence.