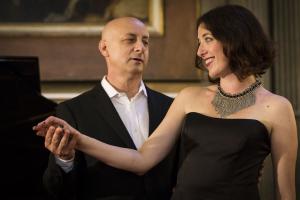 Running frequently throughout the year and every day during the summer season, Italian Opera Florence is a delightful evening's entertainment featuring some exciting and talented vocalists. Staged at the impressive Santa Monaca Church in Florence, the programme includes operatic works for a soprano, a mezzo-soprano, a tenor, a baritone or a bass. Each of the singers is ably accompanied by an expert pianist playing a grand piano. The concert constitutes a thrilling odyssey through some of the best-loved arias drawn from Italian opera.
Located centrally in the heart of the city of Florence, just to the south of the Arno river, the Church of Santa Monaca dates back to the fifteenth century when the Renaissance was in full flourish in this part of Italy. The venue provides an intimate setting for operatic performances so that music fans can really hear the singers close up as they take to the stage. The interior of the church boasts works by well-respected artists such as Giovanni Maria Butteri, Baccio da Montelupo and Cosimo Ulivelli, among others. Initially, this place of worship was run by a convent of Augustinian nuns who took refuge in the city in 1442 due to war. Although the church closed to worshipers in 1808, it has served in a variety of guises ever since, including its current role as an attractive concert venue, one that is ideal for vocal performers.
The programme of Italian Opera Florence is subject to changes here and there. However, audience goers can expect to hear works by Giacomo Puccini, Gioacchino Rossini, Giuseppe Verdi and Wolfgang Amadeus Mozart during any single performance. Each concert begins at 9.15 pm and runs for approximately an hour and a quarter. The vocalists are all professional singers with a pedigree in performing the sort of music on show. With such superb musicians plus a fabulously ornate and historic setting, there can be no finer way for music lovers to enjoy a selection of the best in Italian opera when staying in the city.
Programme:
Wolfgang Amadeus Mozart

Arias from Le nozze di Figaro

Giacomo Puccini
Giacomo Puccini
Gioacchino Rossini

Arias from Il barbiere di Siviglia

Giacomo Puccini

Arias from Madama Butterfly

Giuseppe Verdi
*Program is subject to change