The Barber of Seville, Opera by G. Rossini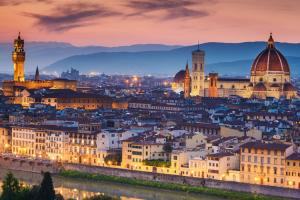 Composed by Gioachino Rossini, The Barber of Seville is a comic opera that was first performed at the Teatro Argentina in Rome on 20 February 1816. Written three decades after The Marriage of Figaro, by Wolfgang Amadeus Mozart, the lead character is the same in both operas and The Barber of Seville is, therefore, often viewed as a prequel to Mozart's earlier, famous work. This is because both operas have libretti drawn from plays written by Pierre Beaumarchais, a Frenchman who moderately satirised the aristocracy in pre-Revolutionary France.
The plot of Rossini's opera focusses on the adventures of a man – Figaro, the barber in the title – as he attempts to help a Count named Almaviva to woo a beautiful girl away from her lusty guardian, Doctor Bartolo. The young lady in question is called Rosina, a part that requires a skilful performance from a mezzo-soprano. The part of Figaro is written for a baritone voice and the Count is a tenor character. Interestingly, The Barber of Seville requires three bass voices to be cast. Not only is the role of Doctor Bartolo a bass part, but so is Don Basilio, Rosina's music teacher, and Ambrosio, the Doctor's servant.
The entire staging is set in or around Doctor Bartolo's home in Seville. The first scene in the opera opens as dawn breaks and the action comes to an end during the evening, the same day. Like Beaumarchais' play, much of the opera's action takes place in the Doctor's music room where Rosina usually has her lessons. Famous melodies run throughout the opera such as, 'Largo al Factotum' which is usually translated as 'Make Way For the Servant Who Does it All'.
When the opera first opened, it was something of a disaster. Having been commissioned to write it in his early twenties, Rossini initially gave his work another title – Almaviva, o sia L'inutile precauzione – in deference to another operatic score that had been made of the play by Giovanni Paisiello in 1782. During Rossini's opening night some fans of the first version turned up to boo the performance. The actor playing the music teacher is said to have tripped over on stage and there were various other mishaps. As a result, Rossini opted to stay away on the second night's performance only to be roused from his home when he was informed that the opera had gone down well with much cheering and applause. The Barber of Seville has been delighting music fans ever since.