I due Foscari, Opera by G. Verdi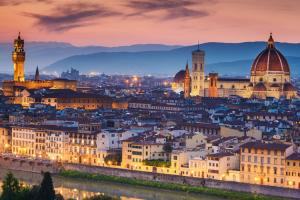 The limitless power and talent of a young Giuseppe Verdi plus the emotion and passion of Lord Byron – this is what the opera I due Foscari has to offer. It is one of the Italian maestro's earlier successes, with a premiere at Teatro Argentina in Rome on 3 November 1844. Along with Verdi's other opera from that same year, Ernani, this historical drama would come to define the whole decade in the composer's career, all the way up to his next big hit, Il trovatore, in 1853. This season, Teatro del Maggio Musicale Fiorentino in Florence puts on a production of I due Foscari that offers a glimpse into the opera colossus' early fame.
To adapt Lord Byron's famous play The Two Foscari for the opera stage, Verdi commissioned the services of star librettist and frequent collaborator Francesco Maria Piave. The pair were under close scrutiny from the censors in Rome, after an early attempt to produce I due Foscari at Venice's La Fenice was rejected because the text was deemed offensive to the aristocratic families of the Venetian Republic. However, in the Eternal City the project found a more welcoming home. Once given the green light, Verdi became bolder in formulating and executing his artistic vision and instructed Piave to depart from Byron's original melancholy mood and inject grandeur and bombast into the libretto. For his part, the composer created a score teeming with passion, confrontation, and drama that was a hint to his evolving signature style of gripping musical narration.
The action of I due Foscari takes place in 15th-century Venice. The two men in question are Francesco, the Doge of Venice, and his son Jacopo, who has been accused of murder. As the Council of Ten sentences Jacopo to exile, the Doge is fighting to reconcile his roles of ruler and father. Will he manage to protect his son and his throne through cunning political play, or will he lose both in a series of tragic events? Audiences at Teatro del Maggio Musicale Fiorentino are in for one of Verdi's most special early gems.