Duetti d'Amore a Capodanno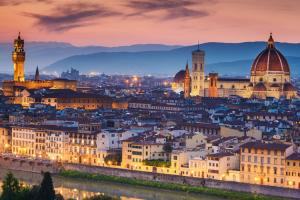 "How silver-sweet sound lovers' tongues by night, like softest music to attending ears". Florence is one of the world's most atmospheric cities, with its dusky violet light, Chianti wine, and cobbled streets. Ring in the New Year in this romantic city with Duetti d'Amore a Capodanno, a very special concert in Florence's beautiful St Mark's Anglican Church. On 31st December, spend two glorious hours being serenaded with some of the most celebrated classical music in history, from operatic highlights to dreamy solo piano pieces. What better way to end one year, and welcome the next?
The building of St Mark's Anglican Church is a very special venue in its own right. Originally a 15th-century palazzo, the church boasts spectacular acoustics which are complemented perfectly by the stripped-back arrangements for piano accompanying tenor and soprano voices in this special concert. Admire the Pre-Raphaelite artwork adorning the church as you bathe in the sounds of these universally well-loved melodies. The intimacy of the venue also guarantees an unforgettable experience, sitting just metres away from the musicians. The programme encompasses both famous solo arias and duets, which number among the most famously emotional pieces of music ever composed.
Duetti d'Amore a Capodanno is a journey through the cultural highlights of classical music, with pieces from some of the world's most famous operas. From 9.00 p.m., let your heart be stolen by the piercing emotion of La Bohème's 'O soave fanciulla', then soar to the church's rafters with the exhilarating aria 'Nessun dorma' from Turandot, and the duet 'Libiamo ne'lieti calici', popularly known as 'Brindisi' from La Traviata. Relish in the sheer dramatic delight of Mozart's Queen of the night aria from The Magic Flute, and the sweet romanticism of Debussy's piano piece Clair de lune, with the unforgettable images it conjures of summer nights and gentle breezes. For a quintessentially Italian twist, delight in classic Neapolitan songs such as 'Funiculì, Funiculà'. The programme will taste all the sweeter for being accompanied by a complementary glass of prosecco at the intermission, to toast the New Year ­– Felice Anno Nuovo!