Die Fledermaus, Operetta by J. Strauss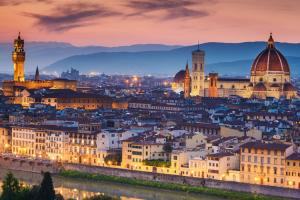 There is hardly a more legendary operetta than Die Fledermaus by Johann Strauss II. Ever since its premiere at Theater an der Wien in Vienna on 5 April 1874, it has been a regular part of the repertoire. The comical storyline pairs perfectly with the Austrian composer's melodies that caress the ear and almost tickle audiences into laughter. Teatro Aurora in Florence-Scandicci mounts a production of Die Fledermaus that stays true to the beloved original.
The source text for the operetta was a German farce by Julius Roderich Benedix that was first staged in Berlin in 1851. French playwrights Henri Meilhac and Ludovic Halévy produced their own vaudeville, titled Le Réveillon and referring to the traditional French New Year's Eve party, loosely based on Benedix' original. Karl Haffner and Richard Genée collaborated on a German translation and libretto adaptation for Johann Strauss II. Along the way, they swapped out the French réveillon for a more traditional ball, which would be more familiar to German-speaking audiences. The story focuses on Gabriel von Eisenstein, an outgoing Viennese man who loves a good party. He has been sentenced to eight days in prison for insulting a city official, but before he turns himself in, his friend Dr Falke invites him to one last ball – an offer Eisenstein cannot resist, so he slips out. When the prison warden comes by to book him in, he finds Eisenstein's wife Rosalinde being serenaded by her old flame, Alfred. To hide the compromising situation, Alfred pretends to be Eisenstein and lets himself be escorted to prison.
At the glamorous ball of Prince Orlofsky, nobody is who they claim to be, and Eisenstein attempts to seduce a mysterious Hungarian beauty who turns out to be his own wife Rosalinde. The whole ordeal turns out to be an elaborate setup by the most unexpected instigator… Garnished with Strauss' remarkable tunes, Die Fledermaus is pumping full of great arias, duets, trios, and ensembles that are as surprising and delightful as its many little plot twists. Audiences at Teatro Aurora in Firenze-Scandicci are in for a wild ride in the best Austrian traditions.