Concerto per il Nuovo Anno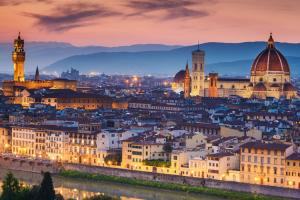 After the example of Luciano Pavarotti, Plácido Domingo and José Carreras, the 'Three Tenors' have become an institution in their own right and a celebration of music and joy wherever they go. A new incarnation of this winning concept invites you to send away the old year and usher in the new one with the Concerto per il Nuovo Anno at the marvellous Auditorium di Santo Stefano al Ponte Vecchio in Florence. Three young tenors, a ballet group and a chamber orchestra will present classic opera arias and duets as well as other beloved classics to create inimitable cheer and atmosphere for the coming of the New Year. Mark the special day with a classical concert like no other!
Concerto per il Nuovo Anno at the historic Auditorium di San Stefano al Ponte Vecchio begins at 8 pm and lasts for two hours, with two small breaks. The venue, located at the heart of Florence, is among the city's oldest churches. Its beautiful marble interior creates a unique atmosphere. The church is particularly impressive at night when gentle lights dance upon the white stone walls and music resonates with power and presence that are almost divine. A perfect amalgamation of Romanesque, Gothic and Baroque styles, Auditorium di San Stefano makes an excellent home for this similarly eclectic and colourful performance.
The musical programme features the talents of the three tenors backed by a chamber orchestra of mandolin, double bass and piano. A small ballet ensemble adds to some of the acts and rounds off the varied and entertaining set. The musical numbers include beloved seasonal songs like 'Silent Night', highlights from the operas of Pietro Mascagni, Giacomo Puccini, Gaetano Donizetti, Giuseppe Verdi and others, as well as Neapolitan songs. Johann Strauss son and father also make their appearance, as the New Year's tradition dictates, with 'The Blue Danube' and 'Radetzky March', respectively.
Concerto per il Nuovo Anno is the perfect opportunity to welcome the New Year in Florence in style!