Carmen, Opera by G. Bizet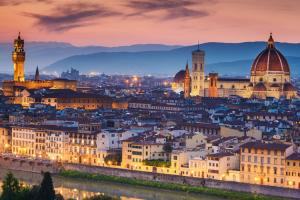 When it appeared on stage for the first time on 3 March 1875 at the Opéra-Comique in Paris, Georges Bizet's Carmen shocked and disturbed much of the people in attendance. The shady characters, their seedy and immoral choices, and the gratuitous violence were not things French high society could tolerate. Nevertheless, Bizet's brilliant score gained instant praise and ensured that this opera becomes a permanent part of the catalogue. A special minimalist performance of Carmen takes place at St Mark's Anglican Church in Florence, and its stripped-down piano arrangement and ensemble of seven singers reveal a whole new side to the French composer's magnum opus.
Carmen is an opera characterised by ceaseless action: characters enter and exit constantly; they sing, dance, fight and celebrate; their impulsive actions and raw sensuality drive the plot at a rapid pace. Bizet aimed at precisely this effect when he hired librettists Henri Meilhac and Ludovic Halévy to transform the novella by Prosper Mérimée into the violent, tragic musical drama we know as Carmen today. Its story follows the enthralling Gypsy temptress Carmen who is not shy about using her beauty and charm to get out of trouble. She seduces the young soldier Don José and ruins his engagement, only to discard him for her next conquest, the bullfighter Escamillo. As broken hearts and bruised egos pile up, harsh consequences seem inevitable.
Bizet took great care in crafting the musical atmosphere to match Carmen's setting. He researched Spanish folk music tirelessly in order to produce an authentic score that would transport audiences to Seville of the 1820s. The immortal melodies, such as Carmen's habanera 'L'amour est un oiseau rebelle', touch the soul and reveal the character's complex inner worlds. In the unique arrangement of Bizet's classic opera at St Mark's, you can enjoy the raw, stripped-down renditions of the famous arias and duets. Laid bare like this, they are all the more powerful and impressive!