Ariadne auf Naxos, Opera by R. Strauss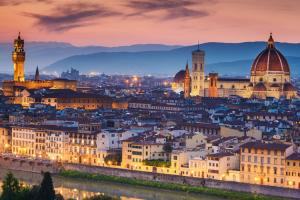 With his eclectic opera Ariadne auf Naxos, Richard Strauss mounted an extensive artistic experiment. It combines elements of high drama with outright slapstick stylings, a seemingly ungodly fusion between opera seria and commedia dell'arte that nevertheless works splendidly. The libretto was the work of playwright Hugo von Hofmannsthal, and the opera was originally performed at the end of the author's version of Le Bourgeois gentilhomme by Molière. In this constellation, Ariadne auf Naxos had its premiere at Stuttgart's Hoftheater on 25 October 1912. Performances in Zurich, Prague, Munich, and London followed, all of which showed that a play and an opera with a total duration in excess of six hours was impractical. Teatro della Pergola in Florence revives Ariadne auf Naxos as a standalone opera, to great effect.
After seeing international audiences' dissatisfaction with the overlong performance, Strauss and Hofmannsthal substituted the opening play with an extended prologue, which set the stage for the incongruous combination of high- and low-brow opera elements. The new and improved Ariadne auf Naxos thus premiered on 4 October 1916 at Vienna State Opera, and it received numerous revivals and productions around the globe since. And how could it not – it is a wild ride that has no parallel in the repertoire! The prologue introduces us to Vienna's richest man who is throwing an evening party with a varied musical programme. A burlesque troupe and an opera company prepare for their respective performances, but there is a catch: dinner has run longer than expected, and both musical performances must take place at once.
Ariadne auf Naxos thus becomes an opera within an opera. Its classical heroine Ariadne laments losing the love of Theseus, but not for long: the burlesque dancer Zerbinetta and her friends swoop in to cheer her up. As mythological characters mix in with clowns and show dancers, the opera takes on an air of absurdity that is wildly entertaining, fuelled by Strauss' progressive score. Teatro della Pergola is hosting a trip across genres and epochs this season.