Alcina, Opera by George Frideric Handel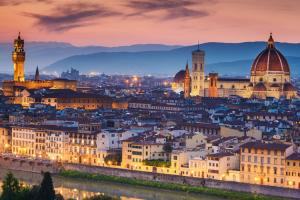 At the time of composing Alcina, George Frideric Handel was about to open a new chapter in his London period. After presenting several other of his opera seria works at another venue, the German-born composer had moved to the newly opened Theatre Royal, Covent Garden, and he was eager to make a mark there. In this important moment, Handel reached for a familiar source for inspiration, namely the epic poem 'Orlando furioso' by Ludovico Ariosto. The work had served as the basis for Handel's previous London-era works, Orlando and Ariodante. For his Covent Garden debut, he adapted the story of the sorceress Alcina into a three-act opera seria that premiered on 16 April 1735. Similarly to Handel's other operas, Alcina did not establish itself as a repertoire piece until the 20th century when several successful revivals brought it much deserved attention. This season, Teatro del Maggio Musicale Fiorentino in Florence delivers an exciting and faithful production of Handel's Alcina.
To make Alcina a special experience, Handel not only focused on composing infectious arias and duets; he also included several dance numbers. The artistic variety gels together with the fantastical subject matter: the dangerous love between Alcina, a sorceress, and the hero knight Ruggiero who has a knack for landing in risky situations. Throwing caution to the wind, he takes his flying horse to the magical island and immediately falls under the spell of the beautiful enchantress who has a habit of discarding lovers by turning them into animals, plants, rocks, or anything else that comes to her mind. Luckily Ruggiero's betrothed Bradamante knows him all too well and follows him, always ready to fight for her love. A dramatic clash ensues.
Handel's Alcina may be an opera seria by genre, but its epic fairy-tale plot is wildly entertaining and captivating. Paired with the composer's mastery of melody and dramatic expression, the work is a rare delight which audiences at Teatro del Maggio Musicale Fiorentino in Florence can thoroughly enjoy this season.