Acis et Galatée, Opera by by Jean-Baptiste Lully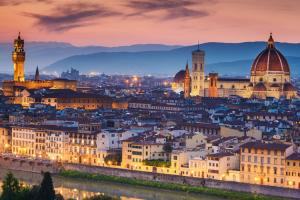 Many early operas from the Renaissance and Baroque period were heavily influenced by Ancient Greek culture and mythology. Acis et Galatée, the pastoral tragedy by French Baroque composer Jean-Baptiste Lully, is among the best examples thereof. As many early operas, it was commissioned to entertain the nobility. The Duke of Vendôme presented it as a gift to Louis, the Grand Dauphin, son of King Louis XIV. It had its inaugural performance at the Château d'Anet near Dreux, Northern France, on 6 September 1686. A second, more elaborate performance took place in Paris on 17 September 1686 at Théâtre du Palais-Royal. This season, Teatro del Maggio Musicale Fiorentino in Florence dusts off the somewhat forgotten early classic.
To adapt Acis et Galatée from its source text, Metamorphoses by Ovid, Lully enlisted Jean Galbert de Campistron. The opera has only four characters: the sea nymph Galatée, her human lover Acis, the cyclops Poliphème, and the sea god Neptune. At the centre of the plot is the love triangle between the man, the nymph, and the cyclops. Full of rage and jealousy, Poliphème kills Acis, to the horror of Galatée. The merciful god Neptune turns the dead lover into a river and thus grants him a second life.
The music of Acis et Galatée is truly exemplary for French Baroque. The vocal and instrumental passages that lead to the opera's conclusion are outstanding, but the role that truly steals the show is Poliphème. His are some of the most memorable and beautiful vocal lines written for a bass in that period in music history. Pastoral and charming on the one hand and tragic and intense on the other, Jean-Baptiste Lully's opera adaptation of the myth of Acis and Galatea is a rare and special experience. Teatro del Maggio Musicale Fiorentino reaches far into the musical vaults to stage this old classic.